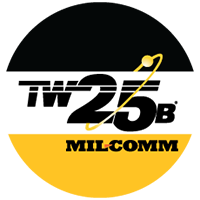 Mil-Comm TW25B grease 4 oz tube
TW25B® SYNTHETIC GUN GREASE super-lubricates heavy wear parts for optimal firearms performance, ideal for lubricating slides, rails and all wear parts. As a bore treatment, proven to increase muzzle velocity and tighten spread. TW25B® synthetic gun grease penetrates the pores of metal surfaces and creates a roller bearing smooth surface, giving you more shooting with a lot less gun cleaning. The choice of U.S. Navy SEALS and U.S. Special Forces worldwide …officially specified lubricant of SIG SAUER. 4oz tube.
Mil-Comm MC2500 Lubricant Protectant Oil .4oz reclosable syringe
MC2500® oil is Mil-Comm Products' synthetic blend that is based on the same technology and delivers the same exceptional performance as TW25B® grease. The lower viscosity of MC2500® oil allows for easy migration to hard to reach weapon parts while its liquidity allows the user the ability to pour or pump the lubricant easily. These special characteristics of MC2500® oil make it outstanding for lubricating close-fitted, high-speed, extreme pressure precision parts. MC2500® is proudly MADE IN THE U.S.A. The 0.4 fluid ounce refillable syringe is ideal for treating hard to reach surfaces, such as trigger assemblies, and for dispensing drops or beads of oil into parts where a full disassembly is neither desirable nor practical. All Mil-Comm Products are endorsed by the NRA.