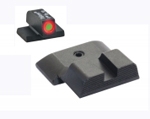 Shop by:
Ameriglo Tritium Night Sight Set - Spartan Tactical - For Glock 9mm, .40, .357, .45 G.A.P. - Green/Green
Ameriglo Spartan Tactical Tritium Night Sight Set features a green Pro-Operator rear sight coupled with a green front sight with orange outline for quick acquisition both day and night. The official sights of the Spartan Tactical Training Group. Fits Glock 17,19,22,23,24,26,27,33,34,35,37,38,39.
Ameriglo Tritium Night Sight Set - UC - For Glock 42/43/43X
This set was designed for rapid target acquisition" and is composed of a large" highly visible front sight and a black serrated U-notch rear. The simplicity of this combination minimizes distraction and greatly reduces the time between threat identification and threat neutralization" and is the ideal choice for any EDC weapon.
Ameriglo Ghost Ring, Operator and U-Rap tritium sets for Glock pistols