Grayguns EDC Enhanced Daily Carry Trigger Kit - Sig Sauer P Series
GRAYGUNS EDC - Enhanced Daily Carry

The next Innovation from GGI, the Enhanced Daily Carry system yields reduced trigger pull weights with dramatically improved pull characteristics in the SIG SAUER Classic P-Series DA/SA pistols. This system consists of our new SOT (Straight Optimized Trigger) mated to a enhanced trigger bar. In addition, multiple drop-in options will be available to tune your action for your specific need.

Technical Specs

The SOT trigger face contour provides unequalled double-action feel and optimal 90 degree single action break angle with desireable straight-face control. Grayguns proprietary enhanced leverage geometry reduces pull weight approximately 25% without compromising reliability or factory safety values. The SOT is dual-adjustable for free and over-travel, the Grayguns standard. Each GGI enhanced geometry trigger bar is micro polished for superior smoothness and perfectly timed function.

These parts have been engineered to provide several key benefits:
Reduces the pull weight of double and single action without the need for spring replacements.
Reduced Overtravel.
Reduced Pre-travel.
Maintains all factory safety functions.
100% American made from precision machined heat treated tool steel, then hand finished and treated with tungsten DLC for unlimited service life.
This kit is compatible with P226/229/228 pistols that have the larger DAK-capable frame window cut.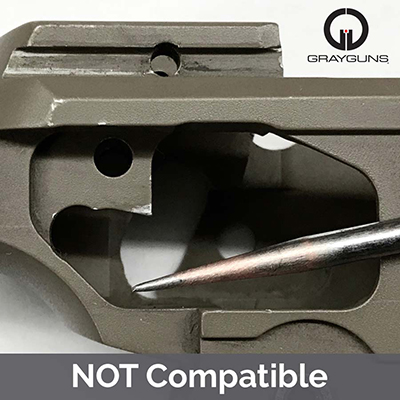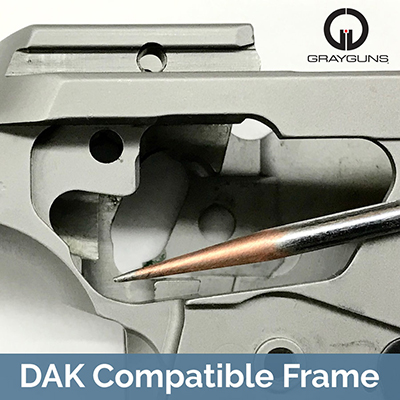 This can only be purchased as a complete system and REQUIRES the trigger AND the trigger bar in order to function. We also recommend the Grayguns 19 lb Mainspring to fully optimize this trigger system.
3 Most recent customer reviews...
Phillip Stambovsky
Aug 27, 2019
I was ready to purchase a Grayguns EDC Trigger Kit for my P229, but found that it was out of stock at Grayguns! Top Gun made my day when I found that they had the kit in their inventory.
Two aspects of my experience as a Top Gun customer will stay with me: 1) When I received the kit, I noticed what looked like some residual Loctite in a trigger adjustment screw, and saw that the Grayguns packaging had been opened by someone at Top Gun to inspect the trigger--a concern with quality and customer satisfaction that I, for one, truly appreciate! 2) The invoice accompanying the kit had a handwritten "thank you!" by Rachel--a small but, to me, very telling indicator of the kind of business that will have my custom every time!
Andrew Jones
Mar 16, 2019
Improved the trigger pull and dropped the weight about half a pound in single. Double still maxes out my pull gauge, but feels better. The physical from of the trigger itself is really nice too. Adjustment are tight, so I don't worry that they will move with recoil. Overall a good worthwhile upgrade.