Shop by:
Your results are being filtered by:
Remove Filters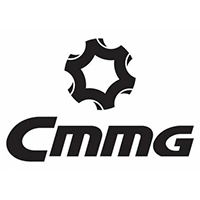 CMMG Banshee 200 Mk4 Pistol, 5.7X28mm
The Banshee 200 is the lightest and most compact AR pistol firearm. It features 7075-T6 aluminum receivers, single-stage trigger, standard safety selector, and a Mil-Spec charging handle. The barrel has a nitride finish and CMMG SV muzzle brake. The Banshee 200 also has a M-Lok free-float handguard and hardcoat anodized finish. This MK4 Conversion model features an 8" medium taper barrel, Magpul MOE grip, 6-position CMMG RipBrace, Magpul MOE guard, and a 40-round 5.7 AR conversion magazine.
CMMG Banshee 200 Mk57 Pistol, 5.7X28mm
The CMMG Banshee 200 Mk57 is a new AR15 chambered in 5.7X28mm. The Mk57 is fed from FN FiveSeven style magazines and uses CMMG's patent pending Radial Delayed Blowback operating system that easily handles the 5.7X28mm cartridge while simultaneously keeping weight and felt recoil to a minimum. It also features a new patented dual-pinned, fully machined bolt catch linkage, making operation both easy and intuitive. The Mk57 is threaded 1/2-28 to accept the most common 5.7 rated suppressors and is the perfect carbine for defending your home or enjoying a day at the range.
Comes with one 20 round magazine.
CALIBER: 5.7x28mm
BARREL: 8" 1:9 Twist, Medium Taper 4140 SBN
MUZZLE: A2 Comp, threaded 1/2-28
RECEIVER: Forged 7075-T6 AL M4 type upper, Billet 7075-T6 AL Lower
HAND GUARD: CMMG RML7 M-Lok hand guard
FINISH: Hard Coat Anodized Receivers and Hand Guard (Can be upgraded to Cerakote)
CHARGING HANDLE: CMMG Mil-Spec
PISTOL GRIP: Magpul MOE
PISTOL BRACE: CMMG Standard RipBrace with 6 Position Enhanced Receiver Extension and Ambi Sling Plate
TRIGGER: CMMG Single stage mil-spec style trigger
TRIGGER GUARD: Integrated Into Lower
SAFETY SELECTOR: CMMG Mil-Spec
MAGAZINE: Pro Mag 20rd
WEIGHT: 5lbs 3oz(unloaded)
LENGTH: 24.3″(brace collapsed)