Shop by:
Your results are being filtered by:
Remove Filters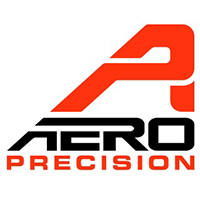 Aero Precision AR15 Stripped Lower Receiver, Gen 2 - FDE
Aero Precision lowers are precision machined to mil-spec dimensions, and work with standard AR15 components to ensure the highest quality with a correct component interface. FDE Cerakote Finish.
Gen 2 Features
Upper Tension Screw - Allows users to fine tune the fit of the upper and lower receiver through the use of a nylon tipped tensioning set screw inserted in the grip tang of the lower receiver. This provides a tight fit with any standard AR15 upper receiver.
Increased Magwell Flare - Allows for easier insertion of magazines and provides a sleeker look.
APAR501302
Out of stock
$91.99
Aero Precision AR15 Stripped Upper/Lower Receiver Set - FDE
Upper Receiver Features:
Machined from 7075-T6 forged aluminum
Coating:FDE Cerakote finish
M4 Feedramps
.250" takedown pin holes
Accepts standard AR15/M16 components
Lower Receiver Features:
Machined from 7075-T6 forged aluminum
Coating:Magpul™ FDE Cerakote finish
Works with standard AR15 components and magazines
Rear takedown pin detent hole is threaded for a 4-40 set screw
APCS100008S
Out of stock
$189.99