Shop by:
Your results are being filtered by:
Remove Filters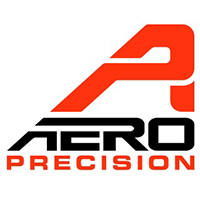 Aero Precision M5 Complete Upper - 12.5" - .308 w/ Atlas R-ONE Handguard
Aero Precision 12.5" .308 CMV Barrel, carbine length upper receiver. Forged upper receiver from 7075 T6 aluminum, .2795 takedown pin holes, Atlas R-ONE handguard with quick disconnect sling sockets at the 3, 6 & 9 o'clock positions. Threading is 5/8 x 24 made up of 4150 chrome moly vanadium and includes dust cover and forward assist.
APAR538704M49
Out of stock
Aero Precision M5E1 Enhanced 18" Complete Upper - .308
This Complete Upper includes our Gen 2 Enhanced Handguard! Key features include the addition of quick disconnect sling sockets, enhanced milling design for grip and visual appeal and a new profile for the picatinny top rail.
Includes:
M5E1 Assembled Upper Receiver
Gen 2 Enhanced Handguard of choice
18" .308 Stainless Steel Barrel
Low Profile Gas Block and Rifle Length Gas Tube
Product comes assembled
This complete upper does not include a BCG or Charging Handle.
M5E1 Upper Features:
Forged from 7075 T6 aluminum
Precision machined to our specs
M4 feedramps
Laser engraved T-marks (Anodized only)
.2795" takedown pin holes
Accepts standard AR .308 components
Comes with forward assist and port door installed
Handguard mounting platform is forged into the receiver
NEW Gen 2 Enhanced Handguard Features:
Added quick disconnect sling socket at the 3, 6 and 9 o'clock positions
Milled additional surfaces along flats to aid with gripping and add visual appeal
New profile of the Picatinny Top Rail
1pc free float design
Rail is Machined from 6061-T6 Aluminum
Built in Anti-Rotation tabs
Scalloped rails
Continuous top rail
1.78" inside diameter fits most muzzle devices and 1.5" suppressors
Compatible with low profile gas blocks
APAR308554M26
Out of stock
Aero Precision M5 .308 Complete Lower Receiver, Standard - BLK
Aero Precision M5 .308 Complete Lower Receiver, Standard - BLK. This Complete Lower Receiver is the perfect base for your custom AR10
build. Works with standard AR 308 components and magazines, rear takedown pin detent hole is threaded for 4-40 set screw. Bolt catch is threaded for screw pin, integrated trigger guard, selector marking will work with 45, 60 or 90 degree safety selectors.
Includes:
M5 (.308) Lower Receiver
A2 Grip
M4 Stock
Mil-Spec Lower Parts Kit
308 Carbine Buffer and Spring
These parts are installed
APAR308011
In stock
$349.99